CODI
ONI's collaborative discovery platform
CODI is your analysis platform, your super-computer, your storage system and your collaboration suite all built into one, accessible from anywhere. Everyone using a Nanoimager gets access to CODI and the new resources, applications and tools released to CODI will come at no charge during the Beta phase of release.
Learn more
Why CODI?
We developed CODI (short for COllaborative DIscovery) to help you prepare, acquire, store, and analyze microscopy images. Files are large and require significant computing power to analyze, and since most of us are not storage network engineers with the top of the line computers, this is a challenge. Research is about collaboration. You are working with scientists across the hall and across the world which becomes difficult when data is inaccessible and cumbersome to manage.
The platform consists of:
| | | | | |
| --- | --- | --- | --- | --- |
| | Your personal super-computer and storage cloud | | A set of powerful analysis tools to quantify microscopy data | |
CODI Cloud
Your personal super-computer and storage cloud
No more jump drives, no more personally managing network or local servers, and no more fighting for hard drive space on your local machine. Data acquired from the Nanoimager passes right into CODI seamlessly and provides a secure storage and backup solution for your experimental data. CODI helps you manage and organize your data for you to focus on science.
No need to:
– Pay storage or hosting fees
– Lock computers down to dedicated analysis runs
– Use commercially available file sharing tools to pass data between teams and collaborators
Explore, visualize and analyze data anytime, anywhere!
Collaboration
Collaboration does not have to be tied to your lab or project. CODI allows you to see and interact with all kinds of data. Want to connect with a user who also works on the same protein or cell? Want to understand what antibodies work well for your application? That can happen within CODI.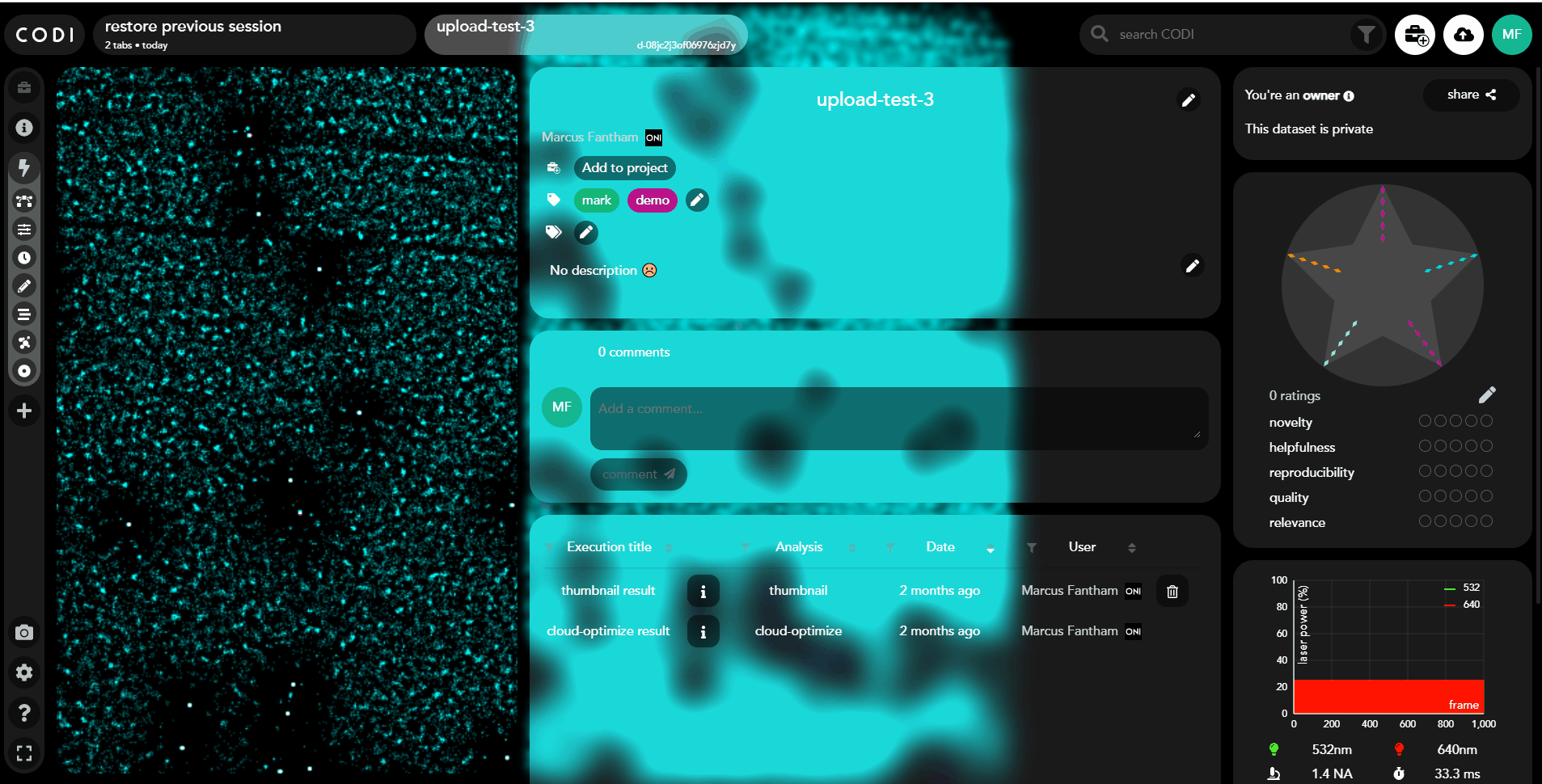 CODI Apps
Set of powerful analysis tools developed to quantify microscopy data
Today, CODI is designed to work with single-molecule localization data and provide applications to quantify results from your experiments.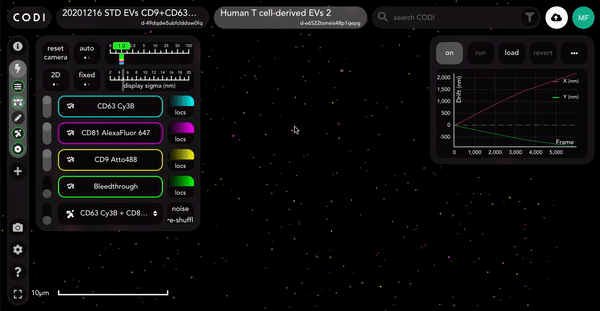 You're able to: 
Correct for spatial drift and filter your localization data

Characterize and resolve at the nanoscale your protein of interest

Quantify the amount of molecules in an image or the ratio of multiple molecules

Explore spatial distribution of molecules (clustering, size, spacing)
CODI Support
Our ONI Service Desk contains various support and training materials for CODI. Simply setup your account and login to access the available materials.
How can I access CODI?
CODI is offered as standard with the Nanoimager system. Contact us to find out more or to receive a demo. During the Beta phase, CODI is being distributed free to ONI customers. Contact us for more information.
How we keep your data secure
Our Software is under GDPR compliance to protect your privacy.
Frequently asked questions
Find more information in our FAQ.